Posts for tag: dental injuries
By Marjorie Miller, D.D.S.
November 20, 2011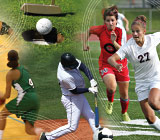 When it comes to sports, all athletes need to know how to assess their risk for experiencing a sports-related injury as well as how to prevent one. The first step to accomplish this is learning how sports and activities are classified, as they define risks from little-to-no chance of injury to highly susceptible for injuries. These categories include:
Low velocity, non-contact sports: These sports and activities have the lowest risk, as they typically include sports where the athletes perform individually at reasonable speed without physical contact. Examples include: golf, Nordic skiing, weight lifting, running and swimming.
High velocity, non-contact sports: These sports and activities are those where athletes move at high rates of speed but with no contact with other participants. While there is no contact, anytime you are moving at high rates of speed, accidents can happen. Examples include: bicycling, motocross, skateboarding, skiing and snowboarding.
Contact sports: As the title states, these sports and activities include frequent body-to-body contact or body to equipment (e.g., a ball, glove, etc.) contact. Examples include: basketball, soccer, lacrosse, baseball and softball.
Collision sports: With these sports and activities, strong, forceful, body-to-body or body-to-equipment contact is a primary goal of the sport. Examples include football, ice hockey, rugby, and boxing. Without the proper protective head and mouth gear, participants are highly likely to experience an oral-facial and/or head injury.
The good news is that you can dramatically reduce the odds of serious dental and oral-facial injury by ensuring that you wear a professionally made mouthguard in addition to a helmet, facemask, or other protective gear that is appropriate to the sport. This is especially true if you participate in the high velocity, contact and collision categories. These simple steps can help reduce worries for not only players, but also for parents, caregivers and coaches. For more information, read, "An Introduction To Sports Injuries & Dentistry." You can also download a FREE, pocket-sized guide for managing dental injuries.
By Marjorie Miller, D.D.S.
October 30, 2011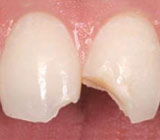 Your son just crashed his skateboard and cracked a tooth, or maybe your daughter fell off the monkey bars at school and now has a chipped front tooth. For children, and some adults, repairing chipped or damaged teeth with tooth-colored restorative materials directly bonded to the teeth may be the perfect solution to restore their smiles.
What is Involved: Composite bonding is a technique that has been developed to correct chipped teeth and other minor dental imperfections. It may also be used to correct mild crookedness or gaps between teeth. The procedure requires the application of a tooth-colored composite resin material to the surfaces of teeth, which is then sculpted to the desired shape. It can be performed in a single visit for one or multiple teeth. The procedure usually takes between one and two hours, and the end result is a beautiful, natural-looking smile.
Advantages for Kids and Adults: Composite resin bonding is a good choice for kids and teens since their jaws are still growing and developing, and they may still be engaged in high-risk activities. After your child's teeth and jaws are fully developed, we can discuss options for more permanent restorations such as porcelain veneers or crowns. These require removal of more tooth structure, which could compromise the long-term health of your child's teeth if done too soon. Composite resin restorations, which bond straight to the teeth and require little to no tooth preparation or drilling are therefore a good option for fixing chipped teeth, and they're less expensive than choosing veneers.
Disadvantages: The longevity of composite resin restorations is related to how well you maintain your teeth. Many people can go for ten or fifteen years before they need to have the bonded resins repaired or replaced. Others will tend to stain and wear after only one or two years and will need some touch-up work.
Contact us today to schedule an appointment to discuss any questions you may have regarding dental bonding. Read more about this topic in the Dear Doctor magazine article "Repairing Chipped Teeth."
Western Springs, La Grange Area
Marjorie Miller, DDS, MAGD
518 Hillgrove Ave Suite 200
Western Springs
,
IL
60558
(708) 246-3635