Posts for tag: dental implants
By Marjorie Miller, D.D.S.
April 04, 2012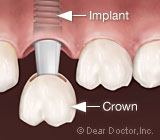 There's a lot to like about dental implants, today's state-of-the-art tooth-replacement system. We consider them the best choice for replacing missing teeth because implants are:
Healthy
You may not realize this, but when a tooth is missing, the bone underneath it begins to melt away. That's because bone needs constant stimulation to rebuild itself and stay healthy, and it receives this stimulation from teeth. It's a delicate balance that's disrupted by the loss of even one tooth. Because implants are made of biocompatible titanium, they actually fuse to the bone and prevent bone loss.
Strong
The fusion of implant to bone is an extremely solid connection. Not only does it offer a strong replacement for a missing tooth, but it can also offer support to other tooth-replacement methods such as fixed bridges or dentures. By themselves, these other methods would not preserve bone and might even hasten its loss in the case of dentures. But with implants, bone-loss is prevented — as is embarrassing and uncomfortable slippage of dentures.
Aesthetically Pleasing
When you receive your implant, it is left alone for a few months to complete the fusion process described above. Then it is topped with a crown made of a realistic tooth-like material. The result is so convincing as a tooth replacement, only you and your dentist may be able to tell it's not a natural tooth.
Long-Lasting
Dental implants have an amazing success rate — over 97%. And once they fuse to the jawbone, they should never need replacement. In fact, they will likely outlast the crowns to which they are attached, but this is not a problem. Implant crowns are precision components that detach for easy replacement, should the need arise.
Economical
Implants have a higher initial cost than other forms of tooth replacement, but when you consider how long they last, they are very economical. Consider it an investment in your health, appearance and self-confidence.
If you have any questions about dental implants, contact us today to schedule an appointment for an implant consultation.
You can read more about this topic in the Dear Doctor magazine article "The Hidden Consequences of Losing Teeth."
By Marjorie Miller, D.D.S.
December 25, 2011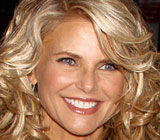 Model Christie Brinkley's smile has been a symbol of America's optimism since the seventies. Particularly well known for being the cover model for three consecutive Sports Illustrated Swimsuit editions, Brinkley still has a fresh-faced American girl-next-door beauty that starts with her cheerful smile, which transmits the message that all is well.
Brinkley's modeling career began when she was "discovered" in Paris in the seventies, at the age of 18. As she explained in an interview with Dear Doctor magazine, it was like a fairy tale. She had gone to study art in Paris, where a fashion designer spotted her walking down the street. "He told me later he immediately thought, 'That's the girl!'" she said.
Brinkley attributes her famous smile to a combination of good genetics (she inherited her mother's "beautiful straight teeth"), combined with the intelligence to practice good oral hygiene and have regular dental appointments. She never needed to have work done to prepare her for the modeling life; but as a teenager, she said, she wished she could wear braces because she thought the "coolest kids had them."
Although dental restorations were not needed to enhance her beautiful natural smile, she did have two dental implants after she fractured two rear molars in a bad helicopter crash while back-country skiing, and she says she is thankful for dental implant technology because it looks and feels so natural.
Brinkley said that her smile led directly to her assignment as spokesperson for a brand of oral rinse and mouthwash products. She is also concerned about the environment. Her company Christie, Inc. is designing environmentally friendly products.
Her advice to everyone is to smile more. "I think a smile makes EVERYONE beautiful! It's the greatest gift we give each other... It's an expression of friendship, love and peace!"
If you have questions about your smile, contact us today to schedule an appointment. Or you can learn more by reading the Dear Doctor magazine article "Christie Brinkley's Supermodel Smile."
Western Springs, La Grange Area
Marjorie Miller, DDS, MAGD
518 Hillgrove Ave Suite 200
Western Springs
,
IL
60558
(708) 246-3635